The 2014 Eastern Motorsports Press Association (EMPA) was sponsored for the 7th year in a row by Bill Brice of Brices/Napa Auto Supply from Freehold, NJ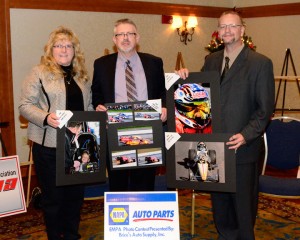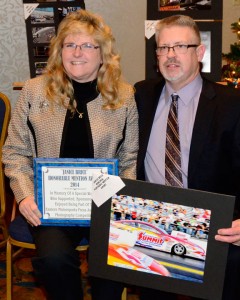 Todd and Debbie's Award Winning Photos at the 2014 EMPA Photo Contest
Debbie's Photos:
2nd Place Action Sequence: Matt Hagan Funny Car Explosion, Maple Grove, PA 2014
3rd Place Portrait & Personality: Steve Torrence and Friend at Gator Natls,
Todd's Photos
2nd Place Unpublished Color: Nostalgia Dragster
3rd Place Pure Art: Lucas Oil Helmet
Honorable Mention Feature: Night shot of Crew
2012 & 2013 EMPA

2013 Todd won his 4th Best Of Show with his John Force Chute shot taken at Englishtown, NJ

2013 Todd won 1st with the John Force Chute Shot, 2nd with the pit shot of the Al-Anabi Crew and Debbie took 3rd with her David Grubnic Top Fuel shot at Maple Grove.
2012 Todd receiving the Ace Lane Sr. Memorial Photographer of the year! Grandson John Lane presenting the trophy to Todd
2012 Bill Brice Presenting Todd the 'Janice Brice Memorial Honorable Mention Award' at the EMPA Convention.
---
2010 & 2011 EMPA

Todd and Debbie's Award winning photos from the 2011 EMPA NAPA/Brices Auto Supply Photography Contest.
Pictured are Billy and Janice Brice, Sponsors of the Napa Auto Supply Photo Contest.
2011 Todd's Photos                                        2011 Debbie's Photos
1st place Un-published Color                         1st Place in Crash Action
2nd place Un-published color                         3rd Place in Pure Art
3rd place Action Sequence
3rd place in Action
Sadly two days after the convention Janice passed away in her sleep.

You will be forever in our hearts.
2010 Todd and Debbie's Award winning photos NAPA/Brices Auto Supply Photography Contest.
Todd's Photos                                                                             Debbie's Photos
1st Place Action category                                                           2nd Place Pure Art
2nd Place Crash                                                                          Honorable Mention: Action
1st place Pure Art
Honorable Mention: Unpublished Color
---
 2008 & 2009 EMPA


2009 Todd's Photos
1st Action (Rage ProMod)
1st UnPublished Color (Summit ProStock)
1st Pure Art (Eddie Krawiec PS Motorcycle)
2nd Action Sequence (Benny the Bomb)
2009 Debbie's Photos
2nd Action (Top Fuel Final, Etown, NJ)
2nd Pure Art: (Top Fuel, Hillary Will)
2008 Sponsors Bill and Janice Brice of Brice's Auto Supply of Freehold NJ congratulate Todd on his winning portraits.
1st Pure Art,
1st Unpublished Color
2nd Pure Art.
2005, 2006 & 2007 EMPA
2007 Best of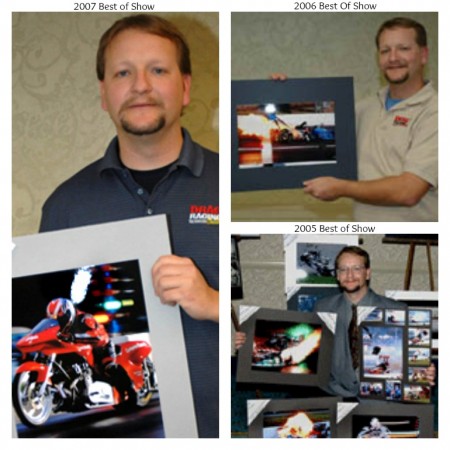 Show: Biker Blitz published on BeaverSprings.com
1st Place in Action Category
For the second year in a row and the 3rd time in 4 years, Todd took home the prestigious BEST OF SHOW with his portrait in the Action category of BSD's very own Biker, Tim Kaufman. Todd also scored another 1st place in the Pure Art category. Other honors were a 3rd in Pure Art and two Honorable Mentions.
2006 BEST of SHOW: Baca Fireball at NHRA Gainesville, FL published in Hot Rod Magazine.
At the 2006 EMPA Banquet, Todd won the prestigious BEST of SHOW with his portrait of the Baca Fire taken at the 2005 NHRA Gainesville, FL event.
This portrait also won 1st in Action category. His portrait of the Zantrex crew welding won 1st in unpublished color. The portrait of Millican's warped wing won 1st in Pure art. Todd also won 2nd place in pure art with his portrait of the hemi.
The Schumacher top end chute portrait took Honorable mention in the Action category and the Dixon Launch took honorable mention in the un-published color.
2005 Todd's Award winning photos from the 2005 EMPA Conoco Phillips Photography Contest.
Best of Show and 1st place Unpublished Color, !st place Picture Story, 3rd place Action, 2nd place Pure Art